Locations For Your Dream Destination Wedding
Destination Weddings are everyone's dream come through but finding locations for your dream destination wedding can be difficult. So, if your thinking about having one, well, you came to the right place, because here I found some remarkable places around the world for you to tie the knot. 
Jamaica is easily one of the top Destinations for Weddings. This Island has one of the friendliest and warm people. Being the third largest Caribbean island, Jamaica is home to many resorts, amazing landmarks, rivers and coastline of white beautiful sandy beaches. 'Out of Many One People' is their motto which expresses the uniqueness and diverse culture of the Island. 3 in every 5 couple I meet have their wedding, anniversary or honeymoon in Jamaica
Top Places to get Married:
Sandals Beach Resort

Trident Castle

Secrets, St. James Montego Bay

Moon Palace Jamaica Grande

Couples Swept Away
Hawaii is the 10th state of the United States of America. This Island is beauty and magnificent in every way, boasting it's natural beauty. Hawaii possesses many biological species and landmarks. The (4) major island that is perfect for weddings:
Top Places to get Married:
Big Island
Oahu
Maui
Grand Wailea Resort Hotel & Spa

Sugarman Estate 
 Kauai
Paris 'The City of Love' is by far one of the most romantic travel destinations. Known as the City of Lights, Paris is the dream for many love birds to wed and to vacate.  With amazing places from the famous' Eiffel Tower' to 'The Louvre' Paris is spectacular in many ways. We can see why many would want to romance here. Here in Paris, it is best to find an all inclusive package that will cater to your every need. 
Top Places to get Married:
Hotel Thoumieux/Tour Ei

ffel

Hotel D'Aubusson/Notre Dame 

Chateau du Rivau

French Alps
Santorini is one of the Cyclades islands in the Aegean Sea. It was devastated by a volcanic eruption in the 16th century BC, forever shaping its rugged landscape. Well out of evil cometh good because if it weren't for its magnificent structure ad historical ruins, Santorini wouldn't be the Santorini it is today. The Jewel of Greece. The best way to go about planning your wedding in Santorini is getting a Wedding Planner this way you will get the dream wedding you deserve. Otherwise, if your wedding is small, then you can opt for one of those beautiful hotels to cater for your smaller group. 
Visit Greece has tons of information for your needs. 
Bahamas! Nestled in the Caribbean right below the state of Flordia. This island is known for its many large-scale hotels, its popular Atlantis Paradise Island Resort and diving activities. With a tropical wedding and white sandy beaches, Bahamas give couples many options to have their tropical romantic wedding. Here are some few places you can plan your dream wedding. 
Top Places to get Married:
One & Only Ocean Club

Atlantis Resort 

Sandy Toe 

Sandals Royal Bahamian Spa Resort & Offshore Island 
This tiny island may be small but its a killer destination for many celebs. Not only is this Island secluded it offers many activities such as snorkelling, sightseeing and diving. Just like most Caribbean islands, it possesses many beautiful golf course and white sandy beaches.   
Top Places to get Married:
Mexico is a big and beautiful country which offers many attractions and resorts. Riviera Maya is one of its most spectacular places and hosts many of the most beautiful beach weddings. It stretches off the Caribbean coastline northeastern Yucatán Peninsula. It's known for its numerous all-inclusive resorts, such as those in the town of Playa del Carmen, and its long beaches.
Top Places to get Married:
Many people may not know how spectacular and breathtaking the Philippines is. Take a time out to take a trip or even browse the web and see what this tiny island in the Philippines has to offer you will not be disappointed. This Sunny Island possesses beautiful beaches, resorts, and hotels for an unbelievable experience. How easy it is to have your wedding and honeymoon at the same place. 
Top Places to get Married:
Shangri-La Boracay Resort & Spa

Ambassador in Paradise Resort 

Discovery Shores, Boracay 

Fridays Boracay 
The great Italy! Known as on of the birthplace of Western Culture and home to the highest number of UNESCO World Heritage Sites in the world. If you want to get away from the beaches and the sand then Italy is definitely one of the top choices for couples. 
With its historical landmarks and buildings, Italy is also known for its arts and monuments that can be found all around the country.  So, if romance, love and having fun are what you're looking for, then head to ITALY!!!  Oh and I won't forget the delicious cuisine, Italy easily tops other countries with its most renown cuisines such as pasta dishes, pizza, and tiramisu which is my absolute favourite desert. 
Top Places to get Married: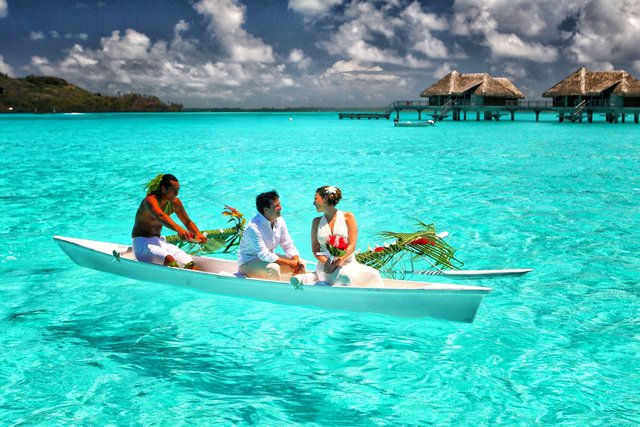 Bora Bora Wedding Photographer
The French Polynesia is just marvellous! These islands offer a broad range of options to suit your needs. You can island hop or just pick an island and indulge all the way. I promise you won't regret it. Discover Tahiti
Top Places to get Married:
Four Seasons Bora Bora

Moorea Pearl Resort & Spa

Manava Suite Resort Tahiti

Sofitel Bora Bora Marara Beach and Private Island