This post may contain affiliate links for products and services. Please see my full Affliate Disclaimer for details
8 Dollar Store Organizing Tricks You've Been Missing Out On: If you have never been to the dollar store, you are missing out. The dollar store has many incredible selections from food, party decor, wedding accessories, home, stationaries, and many other items. You can find so many things to organize, decorate, or useful tools on a day-to-day basis to help make your life easier.
Whenever mum comes to visit from Jamaica, she would always head to the dollar store to get stationery items for her school, candies, and little gift items to bring home for friends and family.
5 Reasons Why De-Cluttering Your Home Is Crucial
Decluttering will help to clear your mind.

Help reduce anxiety and stress.

Reduce your workload/house chores.

It can cause health problems.

It helps to get rid of pathogens in your home.
Now, Let's look at these eight (8) dollar store organizing tricks that will help you be more organize and decorative.
1. Organize your fridge with these cute baskets from the dollar store. Look at those mason jars? You may not get that same one at the dollar store, but you can get smaller jars to store other food items. Via Do it on a Dime
2. I think when your life is organized your state of mind is too lol does that make sense. But, it just makes your home feel light and your mind free and clear and of course reduces stress and anxiety. Tutorial at The Crazy Crafty Lady
3. This is perfect for your laundry room, everything in one place. Via Home Designer
4. These crates can easily store your children's toys, books, or other items. You don't have to place them that high on the wall. You can always set them a couple of inches above the floor. Via HomeTalk
5. A basket to store laundry items or even just extra blankets or other linens. Though the whole project is not $1, the rest of the items to make this DIY project is inexpensive, so don't worry about going over budget. Besides, it's totally worth it. The tutorial for this project can be found at I Heart Organising.
6. I thought this was clever of Rachel from Smile & Wave to use one of these dollar store cooling racks to hang her jewelry. How innovative? Via Smile & Wave.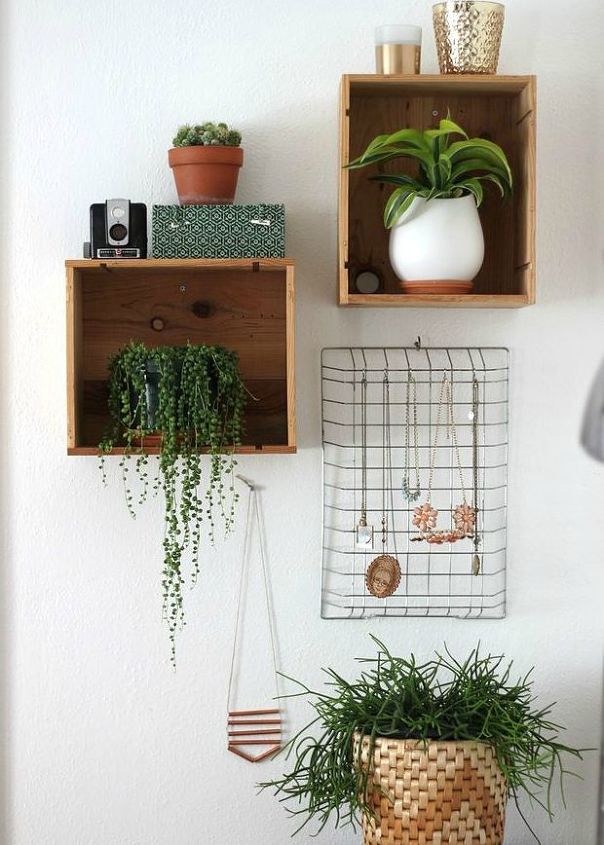 7. I love a cute pantry. I can't wait to buy my own home. Sigh, someday, someday! Jen from The Social Home said these were from the dollar store in Canada, so let's hope we can find these in the US. With a little shopping around of course. Via The Social Home.
8. You can get these baskets at the dollar store, but you have to get a rope to do the rest. Via Be Different Act Normally.
These dollar store organizing tricks are just amazing. Let me know what are your tips for organizing your home.
CHECK OUT THESE AWESOME RECIPES FROM US