This post may contain affiliate links for products and services. Please see my full Affliate Disclaimer for details
11 Tricks For Tackling Your Messy Pantry
My sister is doing a renovation of her kitchen and I just love the idea of playing the designer lol. I told her how necessary and useful a pantry could be for her kitchen and there is no way she can not include one in the kitchen design. 
When organizing your pantry, there are many things to think about. Your space, the items you store, the weight of the items and how you would like to store those items. You have to organize and make a structured plan as to how you will organize your pantry and the supplies you may need. 
Of course, you can opt to hire a professional,  but why do that when you can do it yourself. It's so easy to do unless of course, you have such a hardcore installation and drilling to do. Hence the workload would probably best handled by a professional. Otherwise, let's get started. 
This post may contain affiliate links to products and services. Disclaimer Here
pantry cleaning tips
1-2
Sort, de-clutter and clean your pantry.
Plan spacing base on size, weight and most used items. This will allow you to buy the appropriate containers, organizers and such necessity for you to effectively clean your messy pantry.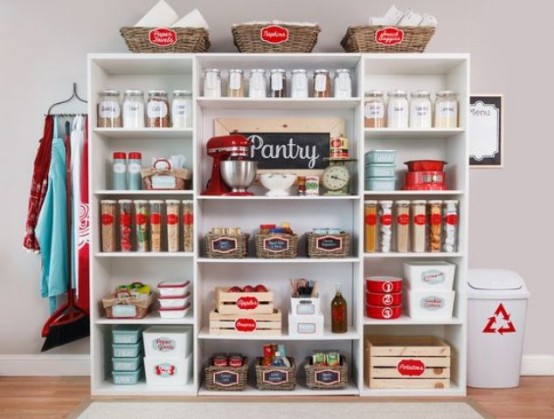 3
Use canisters and labels to eliminate boxes and maximise space and identify items.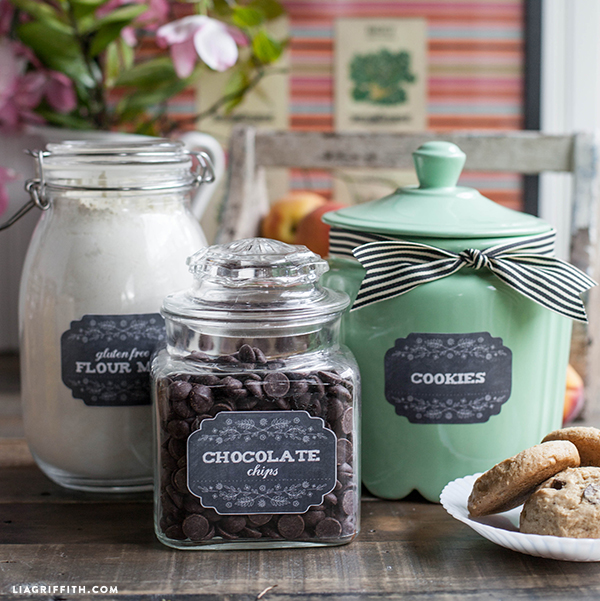 4
Store cans horizontally using containers to maximise your space. You can purchase these can storage containers, or you can make your own out of cardboard.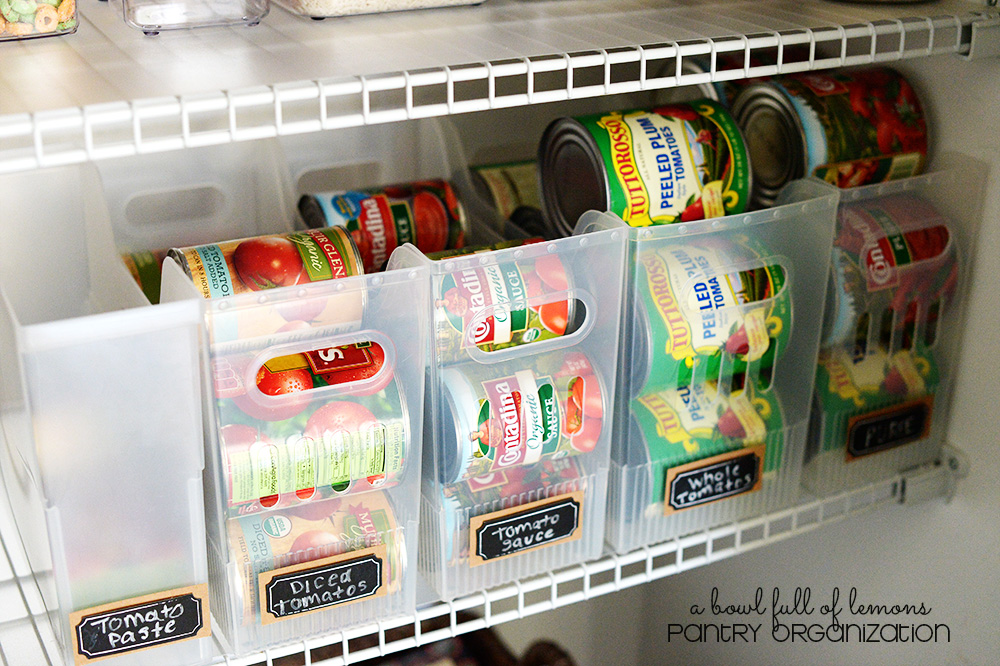 5
Use of organizer (Lazy Susan, Shelves, Cabinets) Lazy susan is perfect because you won't have to try to reach items nad tumble things over. Just spin miss Lazy Susan and Viola! There it is. 
6
Use hooks  & clips to hang mugs, snacks or other items that can be hung to free up space.
7
Place certain items at different levels.  
At the top of the shelf place items, you don't often use such as an igloo or reminding bulk items like your paper towels, etc.
In the middle store the most common used items and the largest items as well. Not heaviest but bigger items. 
Place heavy items at the bottom of the shelf to avoid too much weight at the top. This tip prevents injury or strain by lifting. 
8
Coordinate your items. Coordinating items to only makes things easier to find, but it looks more organize and beautiful. Remember we eliminating the messiness and bringing in order.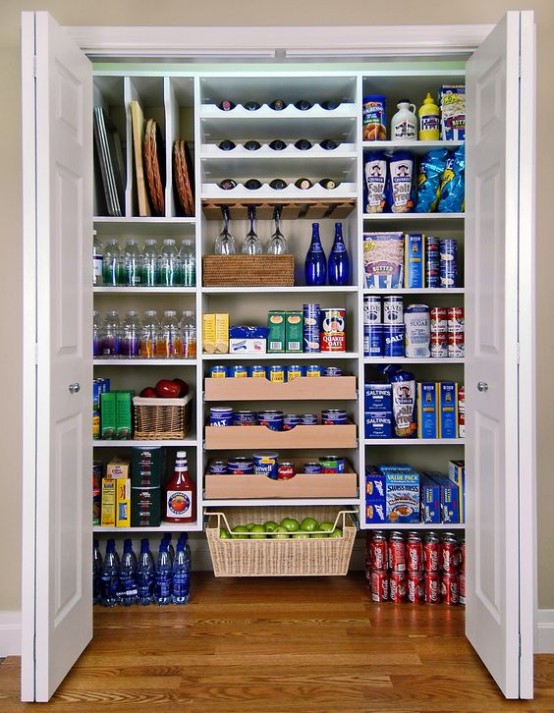 9
Use baskets /bins to store snacks, boxes, hand towels and other misc. items. You can avoid boxes and bags of food altogether by using canisters, and slim bins to store dry food. Your pantry does not have to include food items, but you can also set aside an area or bin to store cleaning supplies and misc items. By using baskets and bins, you will know exactly where items are and avoid confusion.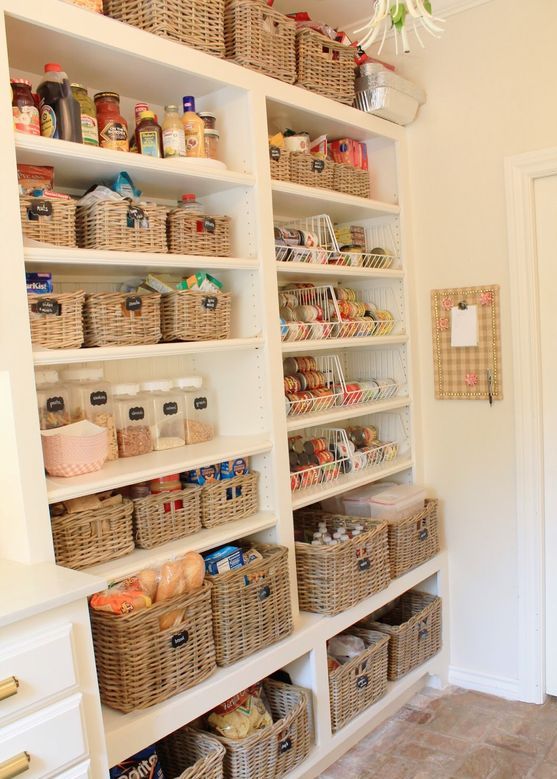 10
Spices are always in numbers. We have so many bottles of this and that. To keep track and avoid bottles from getting out of control. Set an area like a wire or board shelving attached to your pantry door dedicated to your spices. "Spices always make everything nice".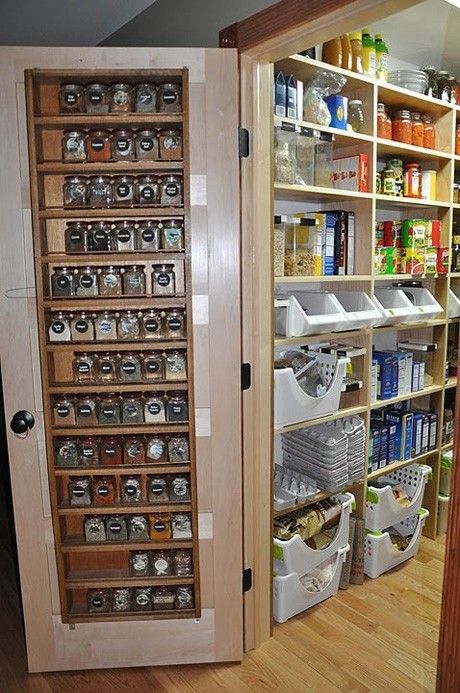 11
Keep your pantry neat and tidy. Maintenance is essential to ensure that it doesn't fall back to a messy pantry. Try to place items back where you retrieve them and spend at least a minute or so on to wipe/clean and fixing out-of-place items. This will alleviate a huge burden of having to take down and clean up again and again.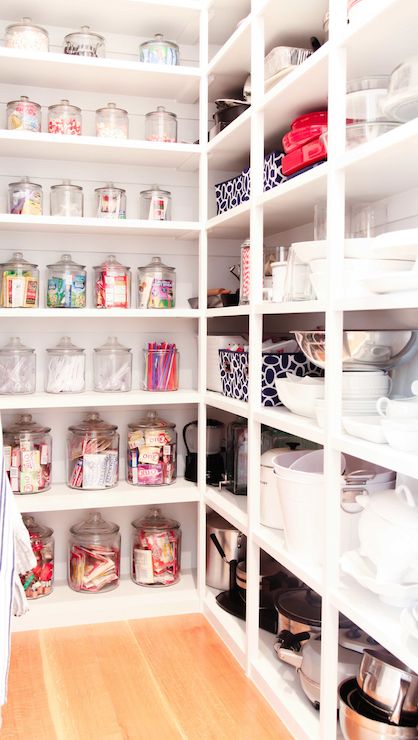 I hope these tips were helpful, until next time. TAKE CARE!
Items you can purchase: